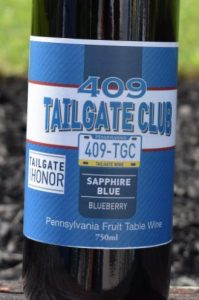 Sapphire Blue
This gold-medal recipient is 100% blueberry juice
Our Sapphire Blue originates in the blueberry fields of New Jersey. Relatively young in age, the New Jersey's Outer Coastal Plain makes up nearly all of southern New Jersey. Its soils are more fine, sandy and acidic compared to more northern regions These soil conditions allow the berries to thrive.
This wine is 100% blueberry juice, not a flavored white wine. Staying true to our farm-to-table model is not compromised in the production of this product. The aroma of blueberry on this wine is immediate and the flavor of summertime lingers on your tongue.
This wine can be enjoyed on its own or with your favorite dessert. Because we did not overly sweeten this wine, the natural flavor of the blueberry comes out at the finish and compliments the flavor of your favorite treat. We have also soaked fruits in it for a healthy option.